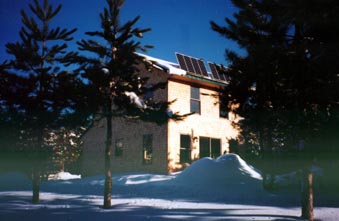 In December 2000, we moved into our new house. For those of you who have read the article in the Spring 2001 "Eco-News", more details about the various systems can be found on the links to the left.
For everyone else, here is the story as printed in "Eco-News", the newsletter of ECO-PEI:
LIVING OFF THE GRID AND LOVING IT
By Sandy Nicholson
My husband and I started looking for land on PEI during the summer of 1998. Our original goal was to find about 10 acres of land and eventually build a house. Well, our plans began to change as we drove around Queens County looking for land - we kept running into more and more potato fields. Our desired buffer zone kept increasing until we found 50 acres of treed land in Desable that we fell in love with. There were drawbacks to the land, one being that the part of the land that we loved the most was quite far back from the road. This meant we either couldn't build our house where we would like to or we would have to deal with the other issues that come with living far from the main road. We chose the latter option. The site that we chose for our house is about 800 metres back from the road. We decided to build in a pine plantation rather than among the large hardwood trees, which would have been a shame to cut down.
We wanted to try to minimize the environmental impact of our project, so we hired Richard Nuesch of Sound Home Construction, who specializes in environmentally friendly construction. We found him to be very sensitive to our wishes, providing many suggestions for safer materials while keeping the costs down.
Our next big decision was about electricity. Should we pay Maritime Electric lots of money to put in power lines or should we invest in a solar power system? We liked the idea of living off the grid, but realized it could also be an expensive undertaking. We weighed the pros and cons and decided to invest in our future with a solar power system. With the help of Kevin Jeffrey of Avalon House, we determined what our electrical needs would be and he designed a system for us that could be expanded in the future. Our system presently consists of 8 solar panels, 8 deep cycle batteries, a DC-AC inverter, and a propane generator.
Our house is conventionally wired and runs seemingly like a "normal" house. We have a propane range, electric fridge (no freezer), front-loading washing machine (no dryer), composting toilet, electric water heater, computer, CD player and various other small electric appliances.
We have realized since our move how little power we have been using and it is a great feeling. At the same time we have never felt restricted in our activities. Our CD player/radio is on a lot during the day, as is our computer. The biggest change for us right now is the availability of hot water. Our electric water heater is hooked up directly to our generator so we only have hot water when the generator is running (usually 2-3 times per week for laundry). So to wash dishes we keep a large pot of water on our woodstove.
Our house is small (20X24, 2 stories). The design is based on passive solar principles: lots of windows on the south side, none on the north, and energy efficient windows. It is amazing how effectively the sun heats the place on sunny days and how long the heat is retained. Our only other heat source is a woodstove, which heats the rooms very easily. It's especially nice not to have to worry about oil bills.
We moved into our house on December 3, 2000 (during the first snow storm of the season) and have been loving it ever since. We have been getting lots of exercise walking back and forth to the road to our car (carrying a one year old and groceries adds to the work-out). And we have found that snowshoes are essential.
Although we did not receive a lot of visitors during the winter, we are hoping that will change after the mud season.
Sandy Nicholson and Dale Sorensen can be contacted at sandy(at)pinegrovemusic(dot)ca or dalesorensen(at)hotmail(dot)com