Solar power is an excellent renewable energy system. Heat from the sun is processed and converted to household electricity. Our house is wired like any other house and we use regular AC appliances.
Our solar power system contains the following components: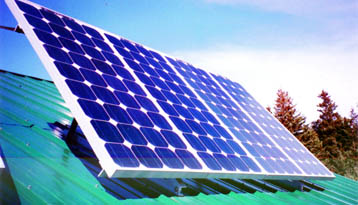 8 - BP Solar BP85 - 85 Watt Laser Grooved Solar Modules
generates electricity when exposed to sunlight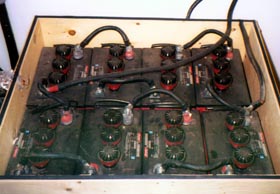 8 - Surrette 6 volt, 460 Amp Hour Deep Cycle Batteries, with Hydrocaps
store electricity and provide energy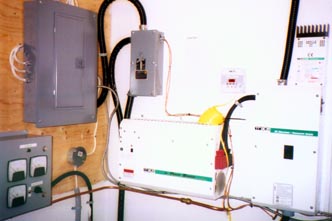 Trace PS2524 - 2500 Watt Sine Wave Inverter, 24 volt
converts DC (battery) power into AC (utility) power
Trace C40 - 40 Amp Load Controller
protects the batteries from being overcharged
Trace DC175 - 175 Amp Disconnect Box
over current and short circuit protection between the inverter and batteries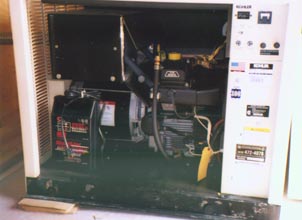 Kohler 8.5RMY - 8500 Watt Propane Generator Set
provides back-up or supplementary power
Our power system was designed by Kevin Jeffrey, RR1 Belfast, PEI, Canada, C0A 1A0. Thanks Kevin!